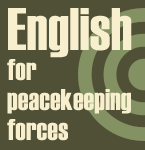 MILITARY ENGLISH FOR PEACE KEEPING FORCES
The resolution of international conflicts and subsequent peacekeeping duties require organisations such as the UN, NATO as well as individual nations to supply military support and personnel. Army, navy and air force staff from many nations, therefore, need to work together and communicate effectively and efficiently in a common language. The language chosen is English and more specifically Military English. Designed in close collaboration with personnel training organisations, Military English aims to ensure your assigned military and civilian personnel can function from day one with their international colleagues. Military English focuses not only on providing personnel with the relevant military English vocabulary (based on STANAG 6001), but also the essential communication skills and tools required to work in an international military environment.
INTERACTIVE MULTIMEDIA CD ROMs FOR TRAINING LANGUAGE SKILLS
The interactive computer based language training with CD ROM offers the following advantages:
authentic specialized audio and visual contents
individual self-accessed and self-paced training
includes activities to master all language skills - listening, reading, speaking, writing, grammar, vocabulary
tests of language and professional knowledge with results track recording
reference materials related to the professional content
TRAINING FOR ESP TEACHERS
Target Audience:
English teachers who have to teach Military English.
Seminar Duration:
10 days (basic)
5 days (advanced)
Seminar Location:
At your establishment
Topics of the Seminar
Military in a Democracy
Services and Branches
The Structure of an Army
The Decision making Process
Types of Exercises
Exercise Building Blocks
Logistic Planning
Radio Procedures
Maps
Operation Order
Convoy Procedures
Mine Awareness
Joint Military Commission